01

SCHC always keeps pace with the times through arduous studying and continuous product innovations. Based on the economic situation, SCHC accomplish its own career aspirations.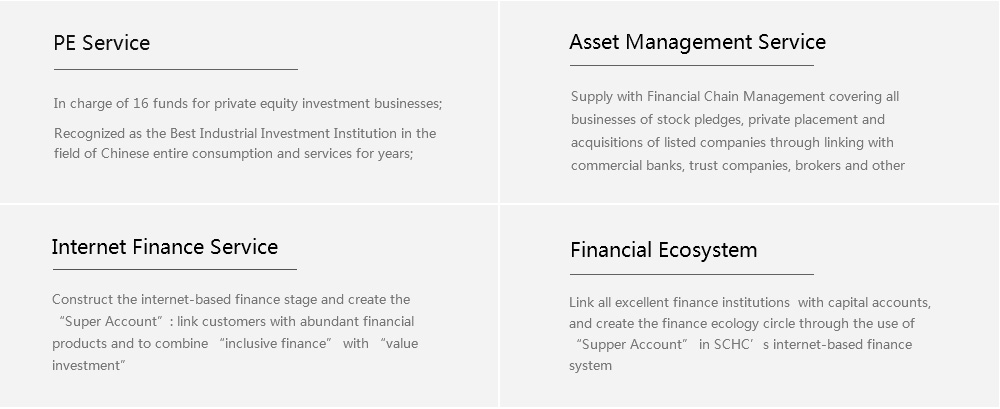 02

High Sense of Self-Discipline on Investment Decision Making: For nine years, SCHC sticks to its own frontier of investment capability possibility and concentrates its energy on the field of entire consumption & services. SCHC has accumulated rich resources of high-quality potential investment programs while fostering its profession and premium on investment in the entire consumption services field.
03

Systemization Management Capability: SCHC set up a specialized Knowledge Management Department and established the top level knowledge base which be able to ensure the investment stability and accuracy by deeply and sufficient huge amount of researches on the capital market, target industries, as well as selected benchmark enterprises. Meanwhile, the massive research outcomes and knowledge precipitation have also been transformed into employees' human capitals through our training system, and finally the most scientific and systematic development solutions could be delivered to our clients. Furthermore, SCHC can guarantee the high standard and quality of services and products that provided to clients by monitoring our staffs in each stage through the three operation systems: Customer Developments System, Projects/Tasks Commitment System and Executions System, which ensure the success of investment and achieve customers' expectations through actions into the value of hard work.

"Pursuit of Perfection" is SCHC's serving goal, this specific spirit accomplishing with its remarkable IRR.